Unsere Kastraten bedeuten uns genauso viel wie unsere aktive Katzenschar. Sie sind vollwertige Familienmitglieder und haben wichtige Positionen in unserer Katzengruppe inne.
Our Neuters mean as much to us as our active breeding cats. They are full members of our family and hold eminent positions in our group of cats.
DONNA LEONE
BOSS OF THE FELINE MAFIA


black-silver-tabby/classic

* 04.03.2008

DE*ELEONOR TARANIS VON TAUBENSCHRECK
(Kastrat / Neuter)

"Leon" ist unsere älteste Mitbewohnerin und regiert uns seit 2008 mit eiserner Pfote, was ihr den Spitznamen "Donna Leone" verpasst hat Sie wird von all unseren Katzen als Boss akzeptiert und respektiert und im Gegenzug ist sie gern die liebevolle aber strenge Tante für die Kitten und Neulinge. Ihr Name Eleonor ist griech. für Mitgefühl und Taranis ist ein keltischer Gott des Himmels.

"Leon" is our oldest room mate und reigns over us with strictly paws, which gave her the nickname "Donna Leone" She's accepted and respected as the big boss by all our cats and she loves being the caring but stern aunt for the kittens and newcomers in return. Her name Eleonor is greek for sympathy and Taranis is a celtic god of the sky.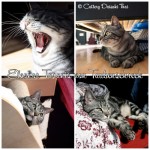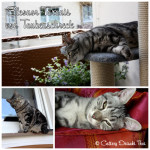 MAINE COON
CATTERY DE*OF SILKENS


blue solid

* 11.06.2008

WORLD PR. DE*ASGARD OF SILKENS
(Kastrat / Neuter)

Asgard (altnord. Ásgarðr – "dort wo die Götter wohnen") ist unser kleiner Herzensbrecher und ein typischer Maine Coon. Sein Lieblingsplatz ist der Kratzbaum auf unserem gesicherten Katzenbalkon von welchem er die ganze Umgebung beobachten kann. Er liebt Kitten über alles und bringt ihnen gerne jede Menge Unfug bei Asgard begann seine Ausstellungskarriere mit 3.5 Jahren und trotz dass er kein extremer Showtyp ist konnte ihn das nicht davon abhalten zum Bühnenstürmer und Richterliebling zu werden.

Asgard (norse Ásgarðr – "where the goods live") is our little heartbreaker and a typical Maine Coon. His favorite spot is the cat tree on our cat secured balcony from which he can observe the whole neighborhood. He loves kittens most and enjoys teaching them a lot of mischief Asgard started his show career with 3.5 years of age and even though not being an extreme showtype couldn't stop him from becoming very successful and a judges favorite.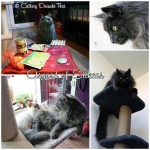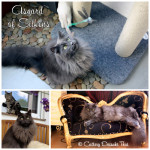 LOVE AT FIRST SIGHT
CATTERY DE*JEWELS OF THAI


lilac point

* 17.02.2009 † 21.09.2009

DE*JEWELS OF THAI DAISUKI
(Kastrat / Neuter)

"Suki" war meine erste große Thai/old-style Siam Liebe und ein absolutes Wunschkind. Dieser kleine Kerl war einfach nur lieb, immer gut drauf und ständig am Schnurren. "Daisuki" ist Japanisch für "ich hab dich lieb" und diesem Namen hat er alle Ehre gemacht. Leider war uns nicht viel Zeit miteinander vergönnt. Ihm zu Ehren trägt unsere Zucht den Namen "Daisuki Thai".

"Suki" was my first Thai/old-style Siamese love. This little fellow was a real darling, always happy and always purring. "Daisuki" is Japanese for "I love you" and he literally lived his name. Unfortunately fate did not grant us more time together. In honor of him the name of our cattery is "Daisuki Thai".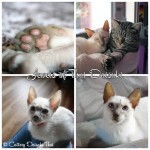 LITTLE STAR SHINING BRIGHT
THROUGH THE DARKNESS OF THE NIGHT


black smoke

* 04.03.2008 † 20.06.2008

DE*AZRAEL THANATHAN VON TAUBENSCHRECK
(Kastrat / Neuter)

"Azrael" zog 2008 mit seiner kleinen Schwester Eleonor zu uns und hat sich immer liebevoll um diese gekümmert. Er war ein sehr verspielter kleiner Kater und liebte es zu apportieren. Auch heute noch bin ich von seiner wunderbaren Fellfarbe black smoke fasziniert. Im Juni 2008 musste Azrael nach langer schwerer Krankheit unter vielen Tränen seine letzte Reise antreten. Wir werden ihn nie vergessen.

"Azrael" and his little sister Eleonor, which he always cared for the most, moved in with us in 2008. He was a very playful little boy and loved to play fetch. Until today I am still fascinated by his wonderful black smoke coat color. In June 2008 Azrael sadly crossed the rainbow bridge after a long and severe illness. We will never forget him.